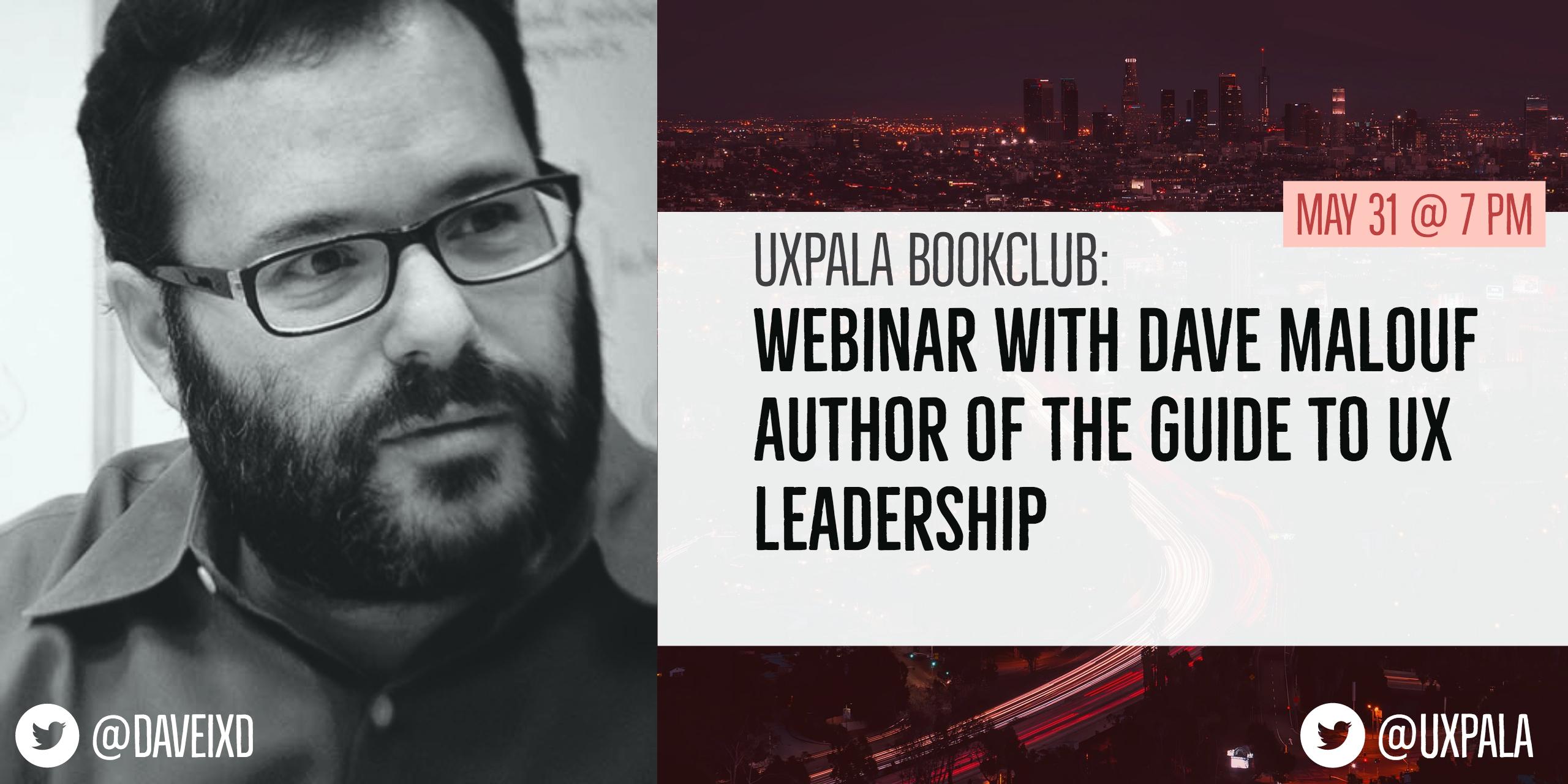 Get Online and Chat with
Dave Malouf, Author of
The Guide to UX Leadership!
The LA area provides a lot of opportunities for getting started in UX but what's missing are opportunities to learn about being a leader in the UX field. Becoming a leader is no easy task. Leadership qualities are cultivated over time, through practice of the right skills in real world situations. 
As part of UXPALA's Bookclub series we are proud to announce that we've partnered with Dave Malouf, UX leader & author of The Guide to UX Leadership (a free download from UXPin!). 
What You'll Get Out of This Webinar:
Things to do in the first 90 days of being a new leader

 

Tools a designer can utilize to become a leader

 

As a leader – Build a following and evangelize UX through empowering others

 

How to have your Stakeholders back and still be loyal to your team!

 

Managing up and across – leading a cross-functional design effort

 

The key characteristics of a good design leader 

 

Tools and Processes to grow and groom your team of designers

 

Framework and methodology for developing an effective UX strategy
Join Us From Your Car, Office or Home:
You can join us on the web or dial in by phone to listen and participate in this webinar. Download The Guide to UX Leadership (free from UXPin) and bring your questions for Dave. After you RSVP and 2 days before the event — we'll send you Webinar information to log-on or dial in from anywhere!
Webinar Schedule: 
7:00 pm About Author Dave Malouf  
7:10 pm Book Section 1 — Understanding before Leading 
7:25 pm Book Section 2 — Evangelizing UX  
7:40 pm Book Section 3 — Leading People 
7:55 pm Book Section 4 — Crafting UX Strategy 
8:10 pm Audience Q & A 
8:30 pm Raffle!

 Dave Malouf is a design leader, author, and UX evangelist based in Austin, Texas. Currently Malouf is the Head of Product Design at Digital Ocean, and has lead design teams for companies such as Rackspace and Hewlett Packard, and spent several years teaching at SCAD. As an ambassador for interaction and UX design, Malouf helped found iXDA in 2003. davemalouf.com  Medium @daveixd

 

 
—SOCIAL— 
@UXPALA   
@DAVEIXD 
@OReillyMedia 
@UXPIN

Event hashtag: #UXLEADERS